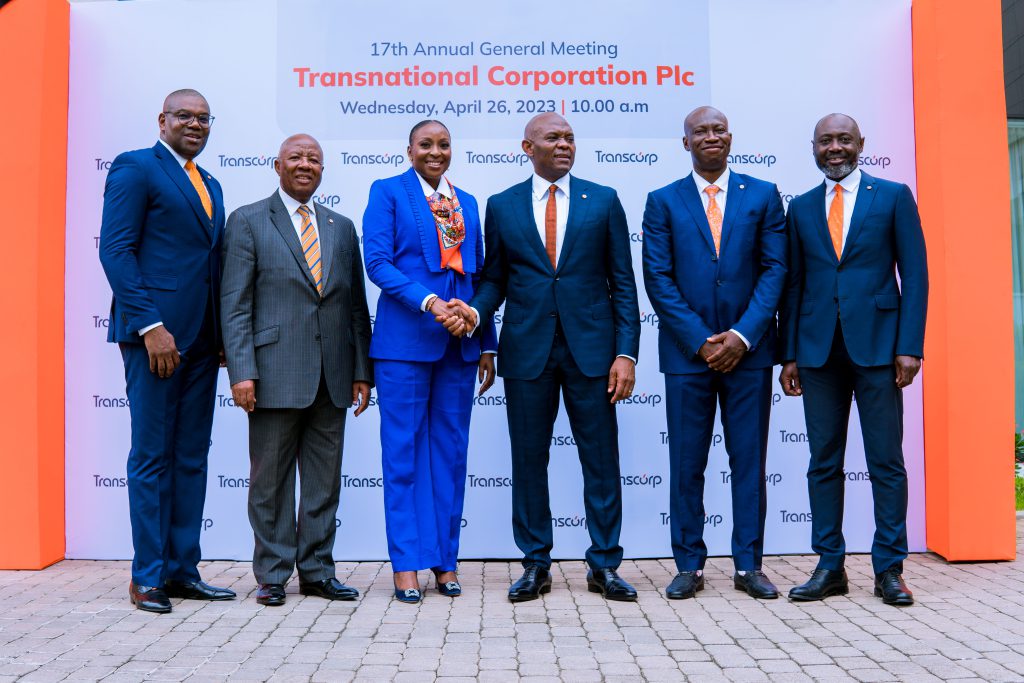 Dear Shareholders, On behalf of the Board of Directors, I am pleased to present the Annual Report and Audited Financial Statements of Transnational Corporation Plc, for the year ended 31 December 2022.
2022 was an extraordinary year in many ways, amid the conflict in Ukraine, the continued impact of climate change and the ongoing consequences of the COVID-19 pandemic.
The Group navigated the challenging economic landscape successfully, implementing strategic initiatives that yielded significant improvements in our customer experience, enhanced our growth prospects, and delivered market share accretion and profitability during the year.
We achieved a record occupancy rate of 79% in our hospitality business and increased our average generation capacity in our power business, surpassing pre-pandemic revenue, earnings, and operational cash flow levels. We also experienced commendable growth in trading profit, a strong earnings performance, and improved key metrics across all our businesses, while maintaining a healthy balance sheet.
These achievements were made possible by our clear strategy, service quality, professionalism, dedication, and the commitment displayed by colleagues throughout the Group.
Before reviewing our performance, let me provide some context.
OPERATING LANDSCAPE
During the year, the global economy was impacted by a series of events that have significantly complicated the ongoing recovery from the pandemic. In Nigeria, the annual inflation rate rose to a five-year high of 21.1%, and interest rates were at an all-time high of 16.5%, according to the Central Bank of Nigeria.
Uncertainty remains a significant feature in 2023 and the macro-environment will remain challenging. In its latest World Economic Outlook, released on 30 January 2023, the International Monetary Fund upwardly revised its global growth forecasts for 2023, but highlighted the uncertainties caused by ongoing higher interest rates and the war in Ukraine. The IMF predicted that the world would grow by 2.9% in 2023, below the rate of 3.4% recorded in 2022.
The power sector in Nigeria is improving under the oversight of the Nigerian Electricity Regulatory Commission (NERC). In a bid, to improve and sustain power generation, NERC introduced the Partial Activation of Power Purchase Agreements (PPAs) which came into effect from July 1, 2022. Partial activation is a phased activation of the contracted capacities of GenCos under the PPAs between National Bulk Electricity Trading Company (NBET) and GenCos. This is a creative way that NERC has adopted to optimize the current low capacity of the national grid.
The hospitality sector rebounded in 2022, after two years of disruption caused by the pandemic. The sector recorded 71.5% occupancy in 2022, this was on the back of improved business activities, boosted by the return of foreign leisure and business travellers, as well as increased corporate and government patronage. Notwithstanding the recent recovery, the sector faced significant challenges such as inflation, insecurity, elevated foreign exchange rates, and increasing energy costs, which impacted performance levels.
The World Travel & Tourism Council has stated that the Travel and Tourism sector in Nigeria is expected to create 2.6 million new jobs over the next decade, doubling the number of those employed within the sector by 2032. According to the report, Nigeria's Travel and Tourism contribution to GDP is forecasted to grow at an average rate of 5.4% between 2022-2032, significantly outpacing the 3% growth rate of the overall economy. We continue to see significant opportunity, both to grow our brands and to increase employment and drive formalisation of the sector.
FINANCIAL PERFORMANCE
Despite the significant macro-economic challenges, Transcorp Group delivered growth across all its key financial metrics. This is especially noteworthy considering the unexpected operational challenges during the year, notably in the supply of gas arising from the oil theft in the Niger-Delta region and rising inflation. It is extraordinary how quickly we were able to adapt, innovate and deliver another excellent performance.
Among the many performance highlights, gross earnings for the year grew by 21% to ₦134.7 billion, from ₦111.2 billion reported in 2021, with a PBT growth of 8% from ₦27.9 billion to ₦30.3 billion. This success was primarily driven by significant investments which resulted in robust growth in our power and hospitality businesses.
Total assets increased by 6% to ₦442.7 billion, driven by 4% growth in PPE, 22% growth in trade and other receivables, prepayments, and other assets. Shareholders' funds grew by 6% from ₦146.2 billion to ₦154.8 billion, driven by retained profit for the period.
Total liabilities increased by 7%, from ₦269.7 billion to ₦287.9 billion, during the year. We were able to reduce our foreign exchange exposure liabilities from $47 million to $20 million during the year.
In the hospitality business, consolidating on the previous year's successful performance, we achieved an impressive increase in average occupancy rate growth from 67% in 2021 to 79% in 2022, with an average daily rate and (ADR) of ₦101,279. This resulted in a revenue growth of 47%, from ₦21.4 billion in 2021 to ₦31.4 billion in 2022. Profit before tax grew by 172% from ₦1.66 billion in 2021 to ₦4.5 billion in 2022. Undoubtedly, we have recovered from the impact of the Covid-19 pandemic and are now pushing the frontiers of service excellence and innovation in this sector.
Our power business faced some challenges during the year, frequent grid collapse and inadequate gas supply, driven by the oil theft and poor gas infrastructure, which impacted the sector during the year. In spite of these challenges, we invested in significant capacity recovery and improving operational efficiency and maintenance to drive value for our stakeholders. Our efforts paid off, with an increase in available and generated capacity from 598MW and 410MW to 858MW and 598MW respectively. We continue to be the largest producer of power in Nigeria.
As a Group, we are committed to a sound capital structure, by maintaining appropriate gearing and ensuring access to sufficient funding to sustain our operations and facilitate growth. Net interest-bearing debt reduced by N1.4bn, compared to the prior year, resulting in a marginal decrease in the net interest bearing debt to equity (gearing) ratio to 49% in 2022 compared to 51% in 2022.
These results are particularly significant, when viewed in the context of the macroeconomic uncertainty and volatility in the Group's key operating areas during the financial year.
STAYING ON MISSION
Complementing the outstanding performance within our businesses, we also achieved several other notable accomplishments during the fiscal year.
We rehabilitated the Afam 5 GT unit 20 gas turbine power-generating unit located at Okoloma – Afam, Rivers State. The rehabilitated unit, which had been out of operations for 15 years, prior to our acquisition of Afam GenCo (through our subsidiary TransAfam Power Ltd) in March 2021, brings an additional 138MW to our available generation capacity. The rehabilitated generating unit adds 138MW of power to the national grid, which is enough to power close to 100,000 homes in a year. We can proudly say that this rehabilitation was achieved using a combination of our in-house resources and other local technical support, with just 20% of foreign expert support.
Transcorp Power Ltd continued its improvement in generated capacity, with an average generation of 377MW in 2022. The significance of this performance is better appreciated when we consider the fact that in 2022, we weathered one of the greatest grid challenges in our business existence, which saw two of our Frame 9E turbines (200MW) shut down for three months, due to interface challenges between our protection system and that of the Transmission Company of Nigeria (TCN). Showing resilience, we still ended the year with available capacity of 670MW, with the expedited return to service of two of our gas turbines – GT15 (100MW) and GT16 (100MW), after undergoing major overhauls and repairs. As a result of our effective engagement with some of our critical stakeholders, TCN deployed a brand new 150MVA inter-bus transformer to its switch yard at our plant in Ughelli, thus eliminating generation loss of about 150MW, which we usually experienced each time TCN's 132kVtransmission lines tripped.
Transcorp Power also signed the ECOWAS Regional Electricity Market (EREM) Participation Agreement at the 17th Session of the West African Power Pool (WAPP) General Assembly held in Dakar, Senegal. When added to the fact that we have been an active member of WAPP, Transcorp Power is further positioned to become a dominant player in the regional electricity market, particularly with the synchronization of transmission systems across member countries scheduled for the fourth quarter of 2023.
In October 2022, Transcorp Hotels Plc made the final payment to the bondholders which completely extinguishes our bond liability. We also maintained our credit rating for Transcorp Hotels and the bonds, as two prominent rating agencies affirmed the Company's "Stable" outlook as follows: Global Credit Rating Co. (GCR), Long-term Issuer Rating: BBB+(NG) and Agusto & Co. Issuer Rating: Bbb. Our flagship restaurant, Bukka, was renovated, with the interior design that will reinvigorate and generate excitement for both new and existing customers. The reimagined interior creates an ambience that will increase traffic to the restaurant, from both in-house and outside guests, supported by our enhanced menu and culinary experiences.
In keeping with our vision of redefining hospitality standards, in partnership with a leading spa operator in Nigeria, we introduced a best-in-class Wellness Centre at Transcorp Hilton Abuja, with the aim to improve our in-house facilities and increase guest satisfaction. The Wellness Centre offers therapeutic and timeless treatments in an intimate indulgent environment featuring innovative spa treatments, magnificent facilities, and the most gracious, expert service.
AN ENGAGED TEAM
We continued to prioritize diversity and inclusion in our workforce. We recognize that diversity not only brings different perspectives and experiences, but it also leads to increased innovation and better decision-making. Our commitment to creating a diverse and inclusive workplace has resulted in a more engaged and motivated workforce.
We have implemented policies and practices to ensure that all employees feel valued and respected. Our efforts have helped us attract leading talent from diverse backgrounds and our Employee Satisfaction Index increased significantly, with an over 80% average across the group. We believe that our employees are our greatest asset, and we strive to create a work environment where they feel inspired and empowered to do their best work.
2023 OUTLOOK AND PRIORITIES
Notwithstanding the difficult macroeconomic climate, the Board of Directors and management team remain focused on delivering on our purpose and strategy to drive long-term value creation.
Our strategy is matched with our mindset of positive transformation. Our priorities for 2023 are very clear: executing for today, planning for tomorrow.
In the power sector, we are focused on further increasing our generation capacity, taking into consideration the limitation in the transmission and distribution capacities. To this end, four of our H25 generating turbines, which were strategically taken out of inventory for refurbishment during the year, will return to operation in 2023. These four turbines contribute about 100MW to our available capacity. This, together with the improved gas supply, which we are aggressively pursuing, will provide a solid foundation for strong performance in 2023. We plan to further consolidate on the existing benefits from our membership of the West African Power Pool, by increasing our share of the regional electricity market.
In our energy division, development studies for OPL 281 asset have been completed for the first phase of the development. The asset will be developed in phases with the first phase comprising 2 wells.
Our goal remains to achieve planned production in Q4 of 2023. In line with the Petroleum Industry Act (PIA), the process of voluntary conversion of the asset is currently ongoing and expected to conclude by Q2, 2023. The PIA replaces the former Petroleum Act and overhauls the previous regulation and governance of the oil and gas industry as it impacts upstream, midstream, and downstream petroleum operations. It provides the option for holders of OPL or OML to enter a voluntary conversion contract under the Act. The conversion from an OPL or OML to the new regime respectively entitles the holder to benefit from the PIA's favourable fiscal terms.
In the hospitality sector, our focus is on maximizing the potential of our existing assets, completing the Transcorp Events Centre in Abuja, a 5000-capacity purpose-built facility featuring state-of-the-art amenities which will serve as the leading venue to host medium to large scale events such as trade fairs, concerts, and weddings in our capital, implementing cost-saving strategies, upgrading facilities, and continuously improving customer experience. A dual strategy of "Exploring while Developing", will be deployed in 2023 to expedite progress towards our end-of-year goal.
As a global corporate citizen, with a purpose of improving lives and transforming Africa, we are also making significant steps to improve our sustainability processes. I am proud to say, "We are Transcorp, we improve lives and transform societies".
INVESTOR'S TOAST
As I reflect on the turnaround of our Company, I am filled with a sense of pride and great accomplishment. We have come a long way. Prior to the turnaround of our dear company, about 10 years ago, investors were offloading their shares at a ridiculous discount and there were hardly any buyers. For years, the shares of the Company traded flat, with no interest from the investing and general public.
Today – we see a different trend and a resurgence of interest – which is an affirmation and recognition of the great turnaround we have achieved in the Company and the shareholder value optimisation anchored in our Group's philosophy of Africapitalism.
ACKNOWLEDGMENTS
In closing, I would like to take this opportunity to extend my gratitude and best wishes to my colleagues on the Board, whose commitment and valuable counsel have propelled the Group forward.
I congratulate our President/Group CEO, Dr. (Mrs.) Owen Omogiafo, her subsidiary CEOs – Mr. Christopher Ezeafulukwe, Mrs. Dupe Olusola, Engr. Vincent Ozoude, Mr. Peter Ikenga, and the rest of the executive team for their excellent leadership, applaud the drive and commitment of all our colleagues that are instrumental in delivering the results set out in this report.
My appreciation also goes out to our valuable customers, business partners and all other critical stakeholders who have partnered and supported us in this exciting journey of growth.
Mr. Tony O. Elumelu, CFR
Chairman, Board of Directors