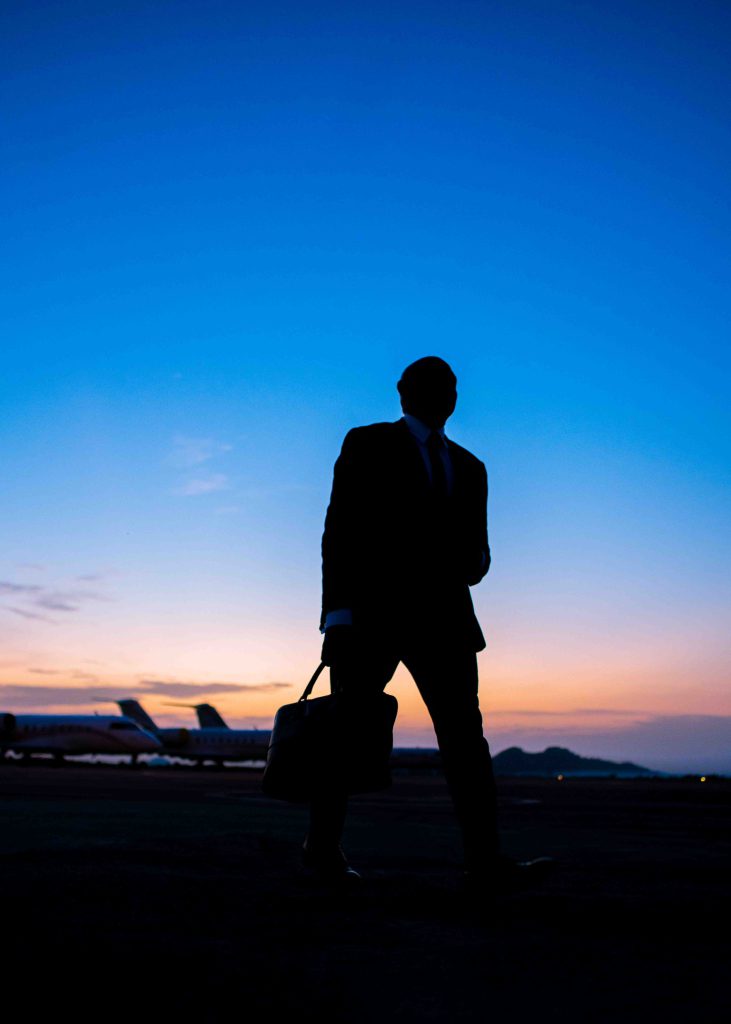 As Africans, we see the impact of climate change every day; as leaders it is incumbent on us to show the way; as Africapitalists we demonstrate that business can do well and do good. As the world rightly focuses on climate change, it is critical that African voices are not just heard but set the agenda. That is why we both want to lead with our own programmes, across our businesses and philanthropy; and be present at the highest level in the debate. Our framework is founded on global standards and marks our commitment to impact 1,000,000 lives by 2050. This journey, to reposition Africa at the heart of environmental transformation, can only be achieved through collaboration and constant advocacy, working more closely with local, regional as well as global private and public sector institutions and leaders.
In line with this commitment, last week, I hosted former US Secretary of State and US President's Special Envoy for Climate, John Kerry at our iconic Transcorp Hilton Hotel Abuja. We had an interesting conversation on operational initiatives that Africa could incorporate into its sustainability framework, leveraging green power solutions and technology. And I have just arrived in New York to join other global and industry leaders to attend the United Nations General Assembly (UNGA), the annual high-level debate that convenes global leaders. There, I will further spread our messages of impact, transformation, and Africapitalism in various meetings.
Here is a breakdown of my itinerary:
Today, September 19: I will deliver the keynote speech at the World Economic Forum (WEF) Friends of Africa Continental Free Trade Area, where I will be speaking on how the AfCFTA can enhance US-Africa trade and how UBA is well positioned to facilitate intra-African trade with our presence in 20 African countries. Others at the event include Congressman Gregory Meeks, Chairman, U.S. House Foreign Affairs Committee; President Mokgweetsi Masisi of Botswana; President Nana Akufo-Addo of Ghana; President Hakainde Hichilema of Zambia; and Borge Brende, President of the World Economic Forum.
I will also visit the headquarters of the United Nations (UN) where there will be an MOU signing between the Tony Elumelu Foundation and the UN Capital Development Fund to support youth entrepreneurship in Africa by mobilising resources and leveraging technology to connect entrepreneurs to specialised assistance, resources, capital, networks, and markets. This event will be live-streamed on my social media channels. I will host meetings with United Nations Head of Agencies, including my good friend, Achim Steiner, Administrator of the UNDP, and long-term TEF partner, as well as Sam Powers, Administrator of USAID, the world's most influential development agency, to advance our partnership for young Africans with the Tony Elumelu Foundation. I will end the day by attending the Heads of States dinner hosted by the Clinton Family, as well as a reception hosted by the President of Sierra Leone and Gordon Brown to celebrate the United Nations Secretary General's Transforming Education Summit.
Day 2 – September 20: The Tony Elumelu Foundation and Google.org will host a roundtable event at UBA America's headquarters, convening UN leaders to highlight the urgency of investing in African entrepreneurs to create jobs, eradicate poverty, promote gender equity, and create economic opportunities to spearhead Africa's transformation. TEF will sign a $20m partnership with the United States African Development Foundation, leading US Government agency, to empower additional entrepreneurs over a period of 5 years. This event will be live-streamed on my social media channels.
I will have an interview with CNN's Richard Quest, to share some of my key messages at #UNGA77 and the role of the African private sector, which I represent, in partnering with global private, public and development sectors for Africa's prosperity. Later the same day, I will speak at the UNDP Africa Investment Partnership Forum alongside select Heads of State. I will end the day with attending the Clinton Global Initiative where we will discuss partnerships between leaders from the public sector, private sector, and civil society to drive progress in climate resilience, health equality, and inclusive economic development.
Day 3 – September 21: I will host bilateral meetings all day with business leaders, including Jared Kushner, former White House aide, and policymakers to further advance the interest of HH Group and the youth of our continent. I will also visit the #UBAAfricaFoodFest at UBA America, as the bank hosts all Africans and guests of #UNGA77 to African foods, drinks, and sounds.
Day 4 – September 22: I will attend the Nigerian International Partnership Economic Forum, where I will speak alongside Nigerian President Muhammadu Buhari. The discussion will focus on increasing international partnerships for Nigeria, to bring together international investors, and I will be highlighting our own track record of success in Nigeria as an example to others. As a member of the board, I will attend the UN Generation Unlimited Leadership Council board meeting where the Tony Elumelu Foundation and the IKEA Foundation, second most resourced foundation in the world, will announce a first-of-its-kind partnership to support green entrepreneurs across Africa. This event will be live-streamed on my social media channels.
At the Forbes Philanthropy Summit, I will be hosted to a fireside chat with the President of UNGA, Abdulla Shahid, on how governments must partner with philanthropy. During this high-level interaction, I will represent the voice of the global philanthropy in setting goals for the next decade. At the United Nations side event, "Driving a Social Entrepreneurship Agenda for Africa", I will deliver goodwill remarks alongside President Cyril Ramaphosa of South Africa, and President Macky Sall of Senegal. I will end the night by attending the launch of the Global African Business Initiative (GABI) by the UN Secretary-General, Antonio Guterres.
Day 5 – September 23: I will host leaders of the biggest private philanthropies in the US to advance partnerships for TEF, to empower additional young African entrepreneurs, and for UBA, to support in driving financial access and inclusion, and reaching the last mile.
Day 6 – September 26: I will speak to students and alumni of Columbia University and Columbia Business School during a fireside session at the Chazen Institute. I will share my thoughts on Africapitalism, entrepreneurship, youth empowerment, and the role of the private and public sectors in development.
I will also be presented with the initial findings of the Tony Elumelu Foundation's research collaboration with Columbia, MIT and Harvard Universities.
Register here.
There is a lot to be done, but I remain proud of our contributions as a Group, our leadership, and our innovation, which ensures that our agenda is heard at this timely global discourse. In all my meetings and engagements, I will be joined by Sola Yomi-Ajayi, UBA Group Executive Director and CEO of UBA America; Ifeyinwa Ugochukwu, CEO of The Tony Elumelu Foundation; and Somachi Chris-Asoluka, Director of Partnerships and Communications at The Tony Elumelu Foundation. Follow the conversation on all RedTV Channels and my social media pages: LinkedIn, Facebook, Twitter & Instagram